Foodie Snitch Feature: Pink Rabbit
Pink Rabbit
232 NW 12th Ave, Portland, OR 97209
Pink Rabbit isn't a conventional bar or a place to to be put into a box. It has been open for less than two months and it's already been dubbed a bar themed after the band The National and an 80's Bar, neither of which are true according to one of the owners, Tyler Stevens (Tusk, Teardrop Lounge) .

Yes, the blue velvet booths and neon pink sign pay homage to other eras, and also yes the name of the bar is keenly named after a song by The National, but the bar is really just a chaotic mix of influences and inspirations from Tyler and best friend and co-owner, Billy Hasson (Barista).

Tyler started working within the bartending scene in the Pearl District over 10 years ago. Alumni of Tear Drop Lounge, he's well versed in upscale cocktails. His skills in refined cocktails is reflected on the interesting and vibrant menu. However his focus on the bar revolves around a feeling an intention he wants to create. In his own words, Portland has enough of those places that can be replicated... he wants to create a warm welcoming vibe the moment you walk in, and trains his staff accordingly. In short, the vibe is neighborhood bar with lavish style.

How Pink Rabbit Got It's Name
So how did we end up with a bar named after a song by The National ? Tyler and Billy were listening to the song, Pink Rabbits when they decided to move forward with opening the bar. It just fell into place. Shortly after, the The National singer, Matt Berninger contacted the bar to express his excitement about the bar name. Much to their surprise, He also mentioned that song was named after an original painting made in Brooklyn, NY in 1999 when the band was formed. Berninger ended up sending the original painting to the bar, which it now proudly displays next to its black and white tile walls and plush blue velvet booths (photo above). This painting is viewed as a wonderful gift and the gesture was a huge surprise.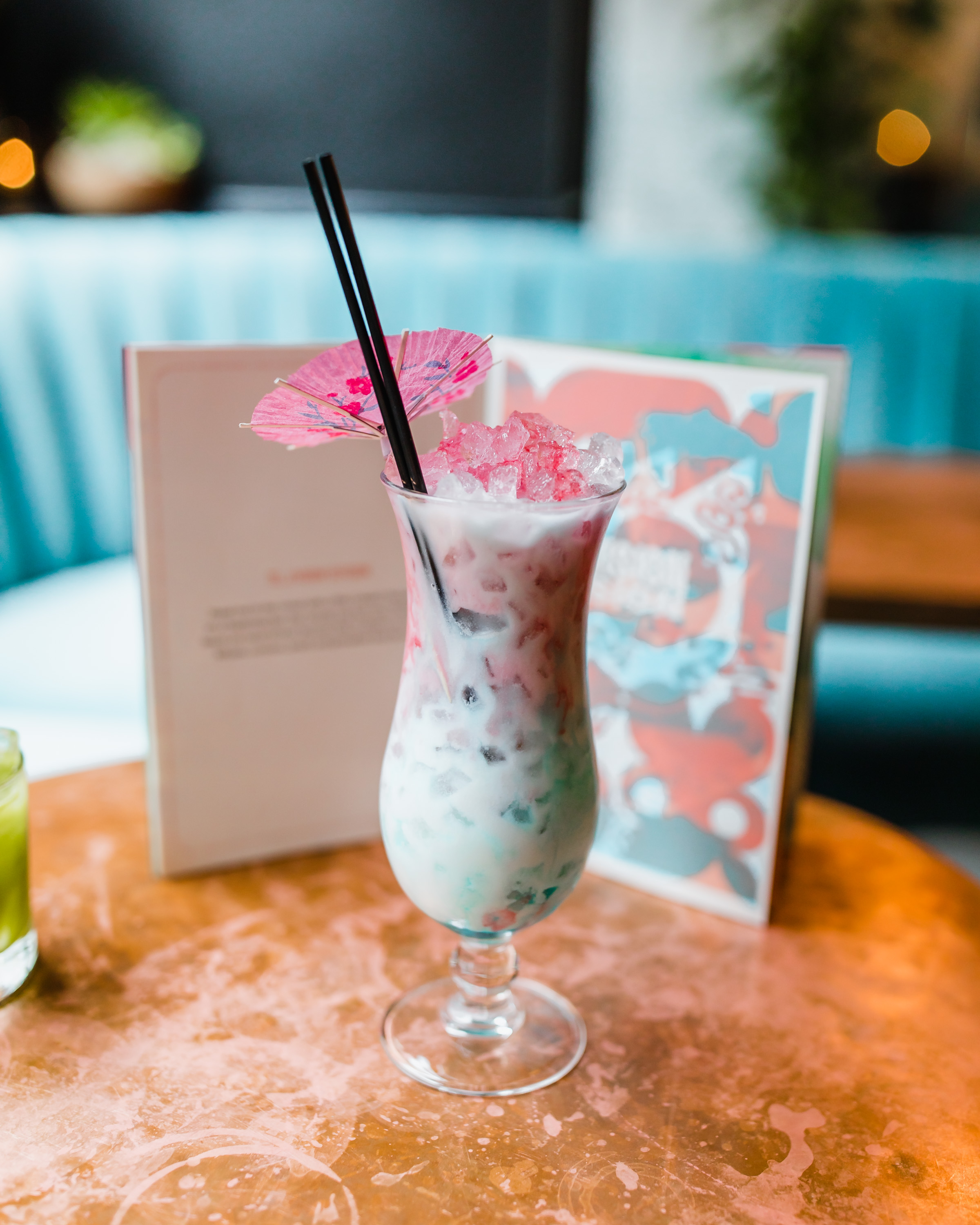 Magdelina rum // creme of coconut // lime // grenadine // creme de peche // blue curacao // bitters
Machu Pisco // orange // lemon // apricot Smith Teas (matcha, english breakfast, pu-erh)
What Did Harvard Teach You?
Monkey Shoulder scotch // lemon // ginger // honey // sparkling lambrusco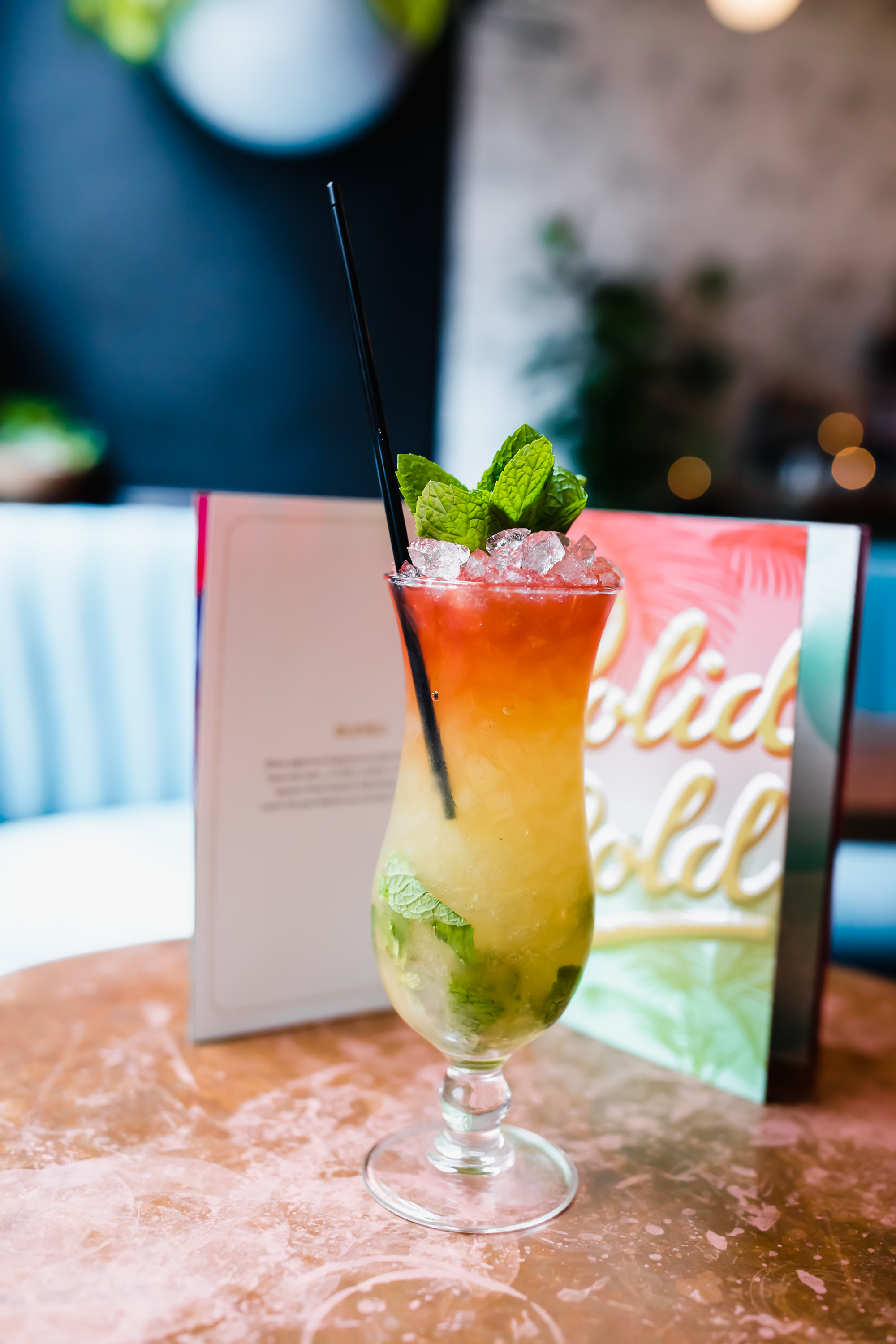 Banks 7 island rum // Broker's gin // lime // mint // passionfruit // bitters
lime, fish sauce, chili, pickled garlic, shallot, cilantro, celery leaf, tomato, garlic, fried shallot
Why I'll be Drinking Here
Though I came for the drinks, the munchies menu will have me staying for hours. The drinks are creative, really photogenic, and there is a nice mix of flavor profiles to choose from. The food is Asian fusion, and I must say those garlic noodles (photo above) were GONE in under 5 minutes. I really like the vibe of Pink Rabbit…it's aesthetic might make you think for a second that you're in an upscale-ish bar but the hospitality makes you feel right at home. You'll know where to find me on a night out, wedged into one of those stunning booths with an excessively cute cocktail in hand chatting it up with a friend.