8 Places to Drink Coffee In Portland
All Images Copyright of Foodie Snitch Media. All rights reserved.
A tasting room for a chocolate company that doubles as a place to have a great mocha and is one of the most photogenic places in Portland.
Cloudforest Chocolate Café
Cloudforest Chocolate is a newer storefront located in the Buckman neighborhood in Southeast Portland. In the space you can find their production facility and chocolate shop. The store is absolutely gorgeous in its design. Light filled and modern in architecture but bold pops of color and shape makes the space have a bit of flair. My favorite design choices were the feather centerpiece, the coral and cobalt wall, and the pop of pastels in a primarily white space.
Get the delicious mocha from Cloudforest Chocolate. This coffee is made with single origin chocolate and it is well balanced. Not too sweet, not too bitter and served in a cerulean blue handmade ceramic makes for the ultimate mocha sipping experience. It's the real deal, and the whole experience of seeing their facility makes you feel like you can learn more about their story, process and more about fine chocolate.
WHAT TO ORDER: Single Origin Chocolate Mocha
A great shop to find unique coffees that are naturally or honey processed.
PUSH X PULL COFFEE
821 SE Stark St, Portland, OR 97214
PUSH X PULL was founded in Portland, OR and is "owned and operated by a couple friends and their need for grade-a, off-the-charts, get-me-out-of-bed-in-the-morning-coffee." A great shop to find unique coffees that are naturally or honey processed (compared to washed process). In simple terms, that means they process the beans differently than most mainstream roasters and the coffee reflects that. I'd highly encourage you to go in and chat with the staff (who are LOVELY by the way) about which beans they have in their rotation.
WHAT TO ORDER: A single shot of espresso or oat milk latte
You can find Portland's most authentic Mexican Mocha at any one of three locally-owned and operated Kiosko Coffee Shops: Con Leche, Kiosko, or La Pearlita
Con Leche Location
3712 SW Bond Ave
These gorgeous coffees are from Kiosko Coffee and their claim is that they have the most authentic and true Mexican Mocha you can get in Portland. I caught up with co-owner, Angel Medina right as he returned from his trip to Mexico to gather his newest round of beans for his shops. The mocha incorporates all things Mexican like their house roasted Volcan de Fuego beans sourced and purchased directly from Mexican coffee farmers, the Cafe de Olla syrup the warmly spiced syrup of cinnamon and piloncillo, Chocolate Ibarra, and lastly, dusted with crushed cocoa nib and freeze-dried raspberry crumbles.

The shop is Con Leche by day, and Frank Wine Bar after 3:00pm, which gives the space functionality all day. Feel good reggae, or romantic jazz fills the minimal room and accompanied by a warm and curious staff, it makes for an experience that makes you want to cozy up with your mocha and drift into dreamland. If you want a coffee experience that is well thought out from the beginning stages of the farm to how it enters your cup, Kiosko Coffee is the move
WHAT TO ORDER: True Mexican Mocha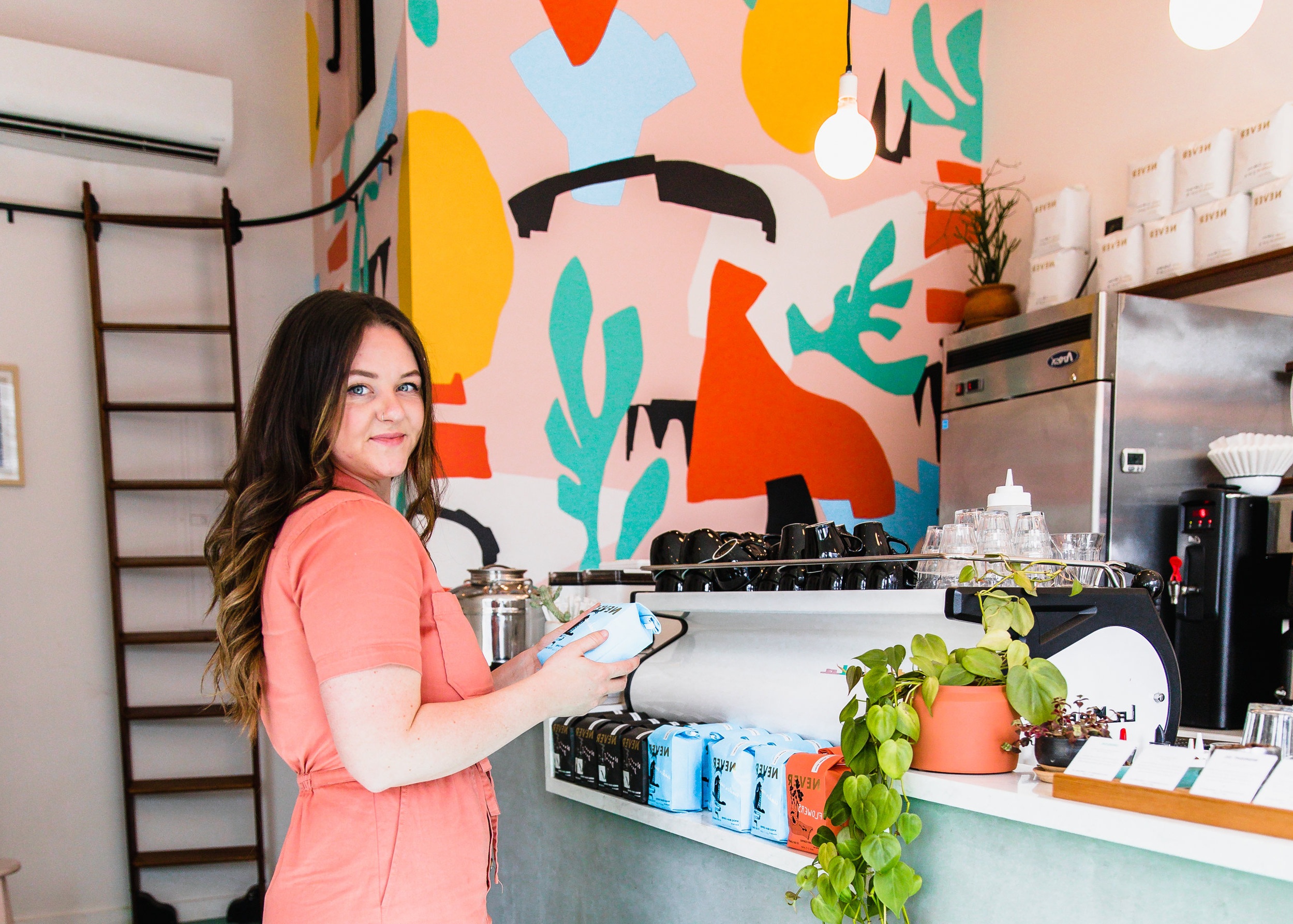 NEVER COFFEE
Never Coffee lab got on my radar because they do things a little differently. From a branding standpoint they pay attention to the details in the design of their space. From the hand painted Strada machine, the bright aqua floors, the local ceramic cups and the bright bags of roasted coffee, Never provides a unique feel to their space. They roast their beans in Portland, Oregon and each blend has a careful attention to detail to the unique flavor profiles.
I love this place so much I dedicated an entire article to it:
WHAT TO ORDER: The Holy Grail Latte, or The Oregon
A great place to cozy up next to a fireplace and sip your cup of coffee.
The Society Hotel
203 NW 3rd Ave, Portland, OR 97209
Hotels used to be associated with being boring, dry and stuffy. However a new wave of the best restaurants, bars and coffee shops has taken over the hospitality scene as of late and The Society Hotel is right on trend. With a coffee shop in their lobby, a rooftop deck and big leather couches next to the fireplace, the hotel makes it a perfect place for any weather. It makes for a great place to cozy up and sip your cup of coffee
WHAT TO ORDER: A latte paired with a pastry
The Australian Cafe and Coffee Producers that provide the ultimate brunch and coffee pairings.
Proud Mary
2012 NE Alberta St, Portland, OR 97211
With their original location located in Melbourne, Australia, Proud Mary decided to make their first USA home in Portland and I can't think of a better foodie city to appreciate their artisanal approach when it comes to coffee and food. I'm still swooning from my time in the cafe. I came in for their coffee and ended up falling deeper in love when paired with their brunch items.
I am pleasantly surprised and also empowered to know that eating avocado toast can be enhanced with the right Flat White. Or that i learned what Pavlova is, and that topped rhubarb and cream pair perfectly with black coffee. The Australian Café and Coffee Producers, Proud Mary nails coffee pairing with vibrant, and bright flavors and I can't wait to come back and have those combinations all over again.
WHAT TO ORDER: Pair the avocado toast with the Flat White OR The Pavlova with a black pour over
7. Stumptown at The Ace Hotel
Trendy hotel spot with a Stumptown Coffee Roasters inside
Ace Hotel Portland
1022 SW Stark St, Portland, OR 97205
Quite possibly the most romantic spot to get coffee on the list, the Ace Hotel Portland bring a sense of nostalgia and allows the imagination to wander while in the space. Connected to Portland famous, Stumptown Coffee Roasters and located smack dab in the middle of downtown this location is great to bring visitors or to feel as if you were immersed in the city.
Also located in the lobby is an old film photo booth and I highly recommend it. Some of my favorite photo booth strips are from when I went down there for a cup of coffee with a friend and we took some photos in the booth.
WHAT TO ORDER: Cold Brew or house latte (and don't skip the photo booth).
Coming here for a cup of coffee will instantly have you feeling like you were transported to Europe.
Figlia Americana
1100 SE Grand Ave, Portland, OR 97214
This place is a cute eatery established by older sister restaurant, Renata. The space feels like a European cafe where you can order just a coffee, or a full spread for lunch. The environment is so lovely, light and airy and had me feeling as if I were transported somewhere else besides Portland. The smoked turkey is a sandwich I haven't stopped thinking about since I tried it. Fresh, vibrant, and perfect for sharing or devour it yourself.
WHAT TO ORDER: Pair their latte with their smoked turkey sandwich Read my full sandwich list here